Lifting Safely at Christmas
back, Back Pain, bad back, balance, Bending and Lifting, Body Areas, Chiropractic, Core strength, Feet, health, Health Hacks, health tips, healthy, How To, Injury Prevention, Life, Lifting, low back pain, Movement, pain, Posture, quads, Spine health, Straighten Up, tips, wellbeing
Lifting Safely
Have you got a few festive guests visiting over Christmas? Has that meant having to go out and get a huge turkey to feed all those hungry visitors? Safe lifting doesn't just mean checking how you lift heavy boxes or furniture. I love a juicy turkey with all the trimmings – don't we all! If you've got extra guests coming around for Christmas lunch, that turkey can end up being pretty big and heavy.
Looking After Your Back Whilst Lifting
The last thing anyone wants on Christmas Day is to hurt their back lifting the turkey in or out of the oven. Your Chiropractor will probably be at home enjoying their Christmas dinner and a glass or two of Baileys (other Christmas drinks are available).
Below are some good lifting and bending tips. Make sure lifting that giant turkey doesn't spoil your Christmas Day!!
It's All About the Base
When lifting a heavy object, having a wide base is important. Make sure your feet are shoulder-width apart before bending. This will give your body more stability.
Tips on Lifting Safely
The first tip for lifting safely, is to get as close to the object as possible. Once you are close enough, bend in a way that we call the 'hip hinge'. This pattern of movement ensures that you don't add extra stresses to your lower back. This is always a good way to bend especially when you are lifting a heavy weight.
The 1st picture shows how to practice doing the hip hinge correctly. If the pole stays against your head, mid back and bottom as you bend – you have the movement pattern right. The 2nd picture shows a lower bend without the pole.
When you bend like this there is less stress through your lower back. Then when you come back to standing, you push up using your thigh and glute (bum) muscles. This means that you won't add any extra stress to your lower back.
This is a safe lifting technique and helps your body to get used to a different movement pattern. It is a good idea to practice this movement at other times. So when it is important to use this technique, you are more used to doing it. A squat exercise is a good way to practice this movement pattern and strengthen your thigh and buttock muscles.
Using Big Muscles, Rather Than Small Muscles
The next tip for when you lift a heavy weight is you need to fix your shoulder blades onto your rib cage. This ensures that you use the big muscles in your back for strength. You don't want to be using the small muscles at the top of the shoulders. Squeeze your shoulders back a little and imagine you are sticking your shoulder blade to your back before you lift.
When placing the item down, do not bend over to lower the object. Use the same approach as before when squatting down to pick up the item. Keep your back and neck straight and keep looking ahead. Slowly bend your knees until the item touches down.
Christmas Opening Times
If you do need to see me during the festive period, my opening times are below.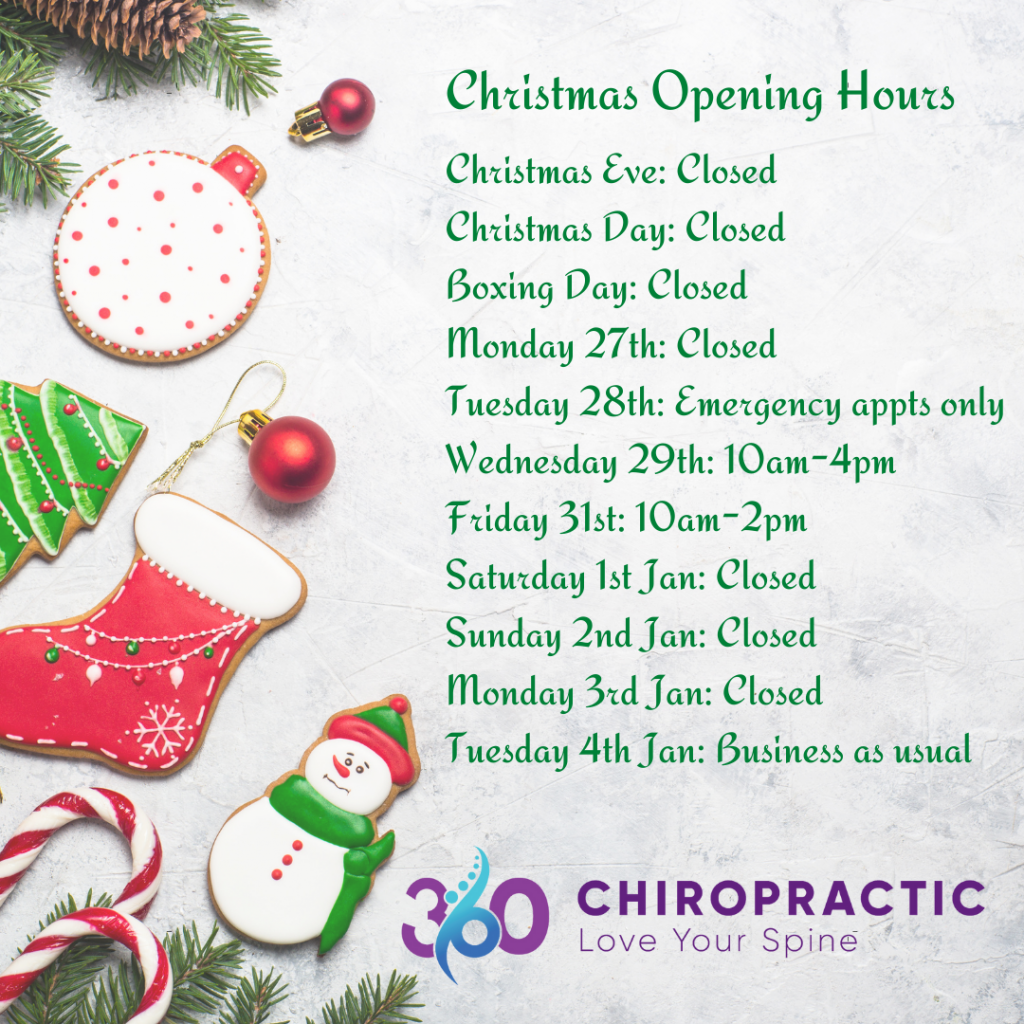 Safe Lifting over the Christmas period, Everyone.